Health Benefits of Pumpkin for Dogs
Pumpkins... They are delicious, nutritious, and easy to come by this time of year. While you're sipping on your favourite pumpkin spice latte, can your dog savour his own natural pumpkin treat too? Turns out, the autumn staple is not only a great treat for people (minus the sugar and pastries, perhaps), but it makes an excellent treat and supplement for dogs! 
Here are just a few amazing health benefits pumpkin boasts for dogs. 
Pumpkin is packed with amazing vitamins & minerals

Pumpkin is super low in calories, rich in a host of vitamins and minerals, including a high concentration of vitamin A., It also contains a lot of potassium, which helps regulate blood pressure, improves muscle health, and assists in metabolism. It also contains smaller amounts of a variety of healthy nutrients, including Vitamin C, Iron, Phosphorus, Magnesium, and Folate, to name a few.
Pumpkin Benefits Eyes
Vitamin A is brilliant for your eye's health, and it's no different when it comes to your dog. Vitamin A promotes eye health and the development of night blindness and other eye degeneration. Since Vitamin A is fat-soluble, feeding your dog pumpkin with a little healthy oil will make the nutrients pack more punch. Feeding your dog pumpkin reach dog foods or simply giving a little dog treat every few days goes along way to your dog's health as well as being a satisfying treat. 
Pumpkins Boost Immune Health
Vitamin C is integral for immune health all-around. When combined with vitamin A, E and other antioxidants in pumpkin, it can possibly help prevent certain cancers from developing. Antioxidants help destroy free radicals, or "oxidants" in your pet's system, like yours. While oxidants are a natural part of everyone's immune system, too many oxidants can contribute to cancers and damage the body. Boost your pet's immune system by including fresh sources of antioxidants, such as those found in pumpkin.
Pumpkins Moisturize Skin & Coat
A number of nutrients in pumpkin, including vitamin A and zinc, improve your pet's skin and coat. The high water content in pumpkin flesh also contributes to supple skin and a lustrous coat. In addition to making your pet's coat shine and look fantastic, the added moisture causes the skin to flake less and less hair to be shed on your carpets, furniture, and clothes.
Pumpkins Encourage Digestive Regularity
A sign of your dog's good health is whether he is pooping normally. Hard stools or those that are difficult to pass put strain on your dog's intestines. Adding a little pumpkin to your dog's diet supplies the necessary fibre to enable your dog to pass stool easily and cure constipation. Though it may defy understanding, pumpkins have the unique ability to cure both constipation and diarrhea in your dog. If your pet's stool is a little loose, a little pumpkin can add bulk and form to your dog's poop.
Pumpkins Aid in Weight Loss
Pumpkins have a high moisture and fibre content, which makes them a powerful tool for your pet's weight loss. Replacing a little of your dog's regular food with canned pumpkin (a few teaspoons for a small dog up to half a cup with a large dog) can help your dog lose some excess weight. The fibre and water in the pumpkin will keep them full, so they don't miss the extra calories.
Pumpkin Tastes Great
Like many people, dogs relish the rich, creamy flavour of pumpkin. And anyone who has tried to feed a dog something healthy that does not taste as good will appreciate this benefit thoroughly. Most dogs willingly lap up even plain cooked pumpkin. But go ahead and add a little pure honey for an extra tasty treat.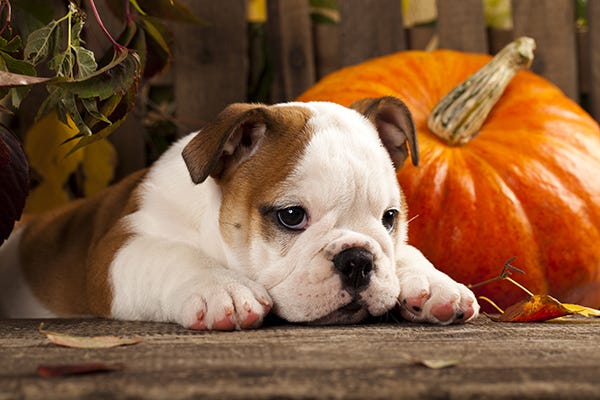 Pumpkin Grain-Free Dog Food
Pooch & Mutt Chicken, Pumpkin & Pea

Pooch and Mutt produces natural, ethical food, treats and supplements to keep your dogs happy and healthy. Pooch and Mutt wet food cartons have 80% lower global warming potential than a can, are 100% recyclable, easy to recycle and made from renewable resources. Free from artificial colours, flavours and preservatives, Pooch and Mutt Wet Food is rich in nutrients. Made with fresh, locally sourced ingredients the food is grain, cereal and gluten free - great for dogs with sensitive digestion. Suitable for dogs from 8 weeks
Shop Pooch & Mutt 
Forthglade Gourmet Turkey & Goose Pumpkin & Cranberry
A delicious mix of gently steamed good quality duck & venison paired with delicious fruit & vegetables makes this recipe a real treat at dinner time! Designed for sensitive tummies and completely free from artificial colours, flavours & preservatives our grain free recipes are free from junk & fillers and support a healthy natural diet whilst containing everything your dog needs to stay happy and healthy.

Shop Forthglade
Pumpkin Grain-Free Dog Treats
Superfood Bar Duck with Carrot & Pumpkin Seeds
Nutritious air-dried superfood bars made with succulent duck cuts and a natural blend of carrots and pumpkin seeds. Complemented with extra fruits, vegetables and superfoods for a perfect healthy snack.
Shop Superfood Bars
Soopa Dental Sticks Carrot & Pumpkin
Pumpkin seeds are known as 'Power Seeds' as they are excellent for skin, coat, soothing digestion and may even help protect your dog against intestinal parasites and worms. Coconut oil is a superfood rich in MCT's which studies have found help boost your dog's brainpower while turmeric has anti-cancer properties to help keep your dog healthy and happy. Simple, delicious, nutritious & best of all dogs love them!
Shop Soopa
Woolf Large Chicken Pumpkin Oats Bone
The Woolf Snacks are specially designed for dogs of all sizes. The Snacks are made of 100% high-quality protein sources to provide the highest quality and the best nutritional intake. The snack Woolf, once cooked, is packed without any chemical additives, preservatives, or dyes.


Shop Woolf