Autumnal Adventures
With the leaves slowly turning brown and nights becoming darker, we all begin to prepare for the aroma of pumpkin spice and Halloween decorations to hit supermarket shelves.
As the succulence of summer is well and truly over, there is no better time to enjoy the change of season than right now. As our Cornish coast is home to some of the most delightful woodland walks in the UK, here's a list of all the idyllic locations that you and your pooch can enjoy.
From gorgeous gardens and fantastical forests, we are lucky enough to be home to some of the greatest areas of natural beauty.
Here are our top 5 autumnal walks for you and your four-legged friends!
Tehidy Woods, Camborne
Situated on the outskirts of Camborne, Tehidy Woods is a firm favourite amongst many dog walkers in Cornwall.
With lush scenery and terrific trails, Tehidy Woods is the place to go for those calm and relaxing walks with your furry friend. Featuring over 9 miles of pathways winding through over 250 acres of woodland, a walk through these woodlands is perfect for all you explorers out there!
Be aware, not all the trails in Tehidy are dog friendly, so keep an eye out for the dog-friendly paths. Certain routes and areas restrict dogs to protect the local woodland wildlife.
After trekking through the forest, there are accessible routes to Portreath and Godrevy, so a blissful walk on the beach can top off your fantastic forest day.
Trelissick Woodland Walk, Truro
Run by the National Trust, this fantastical forest trek is a gorgeous 3-mile circuit, taking you across the grounds of Trelissick House to the sea, where you can enjoy a wondrous woodland walk along the banks of the river Fal, up tp the King Harry Ferry before ending up at the tranquil creek tucked next to the estuary.
Despite dogs not being permitted to enter the main gardens, you and your canine companion can enjoy a lovely adventure around the parkland area whilst gazing upon the beauty of the fantastic floral grounds.
Better still, Trelissick is home to a dog friendly cafe (the Crofters), who have dog biscuits, water bowls and outdoor seating, so after a hard days trek, you can sit, relax, and enjoy a snack with your four legged friend!
Trebah Gardens, Falmouth
These gorgeous gardens offer a beautiful wooded 25 acre sub-tropical experience that descends to its own private beach on the delightful Helford River. There are a range of areas to explore as you follow the natural spring that drifts by brightly coloured waterside plantings down the valley. 
Explore under canopies bursting with exotic blooms, and follow vibrant tunnels of colour witnessing some of the most incredible rhododendrons, magnolias and camellias the UK has seen.
Dogs are welcome in the garden and on the beach all year round, but they have to be on a lead at all times. There are designated doggie tables in Trebah Kitchen, so dog lovers can sit together and enjoy a light refreshment after your amazing adventure!
Cardinham Woods, Bodmin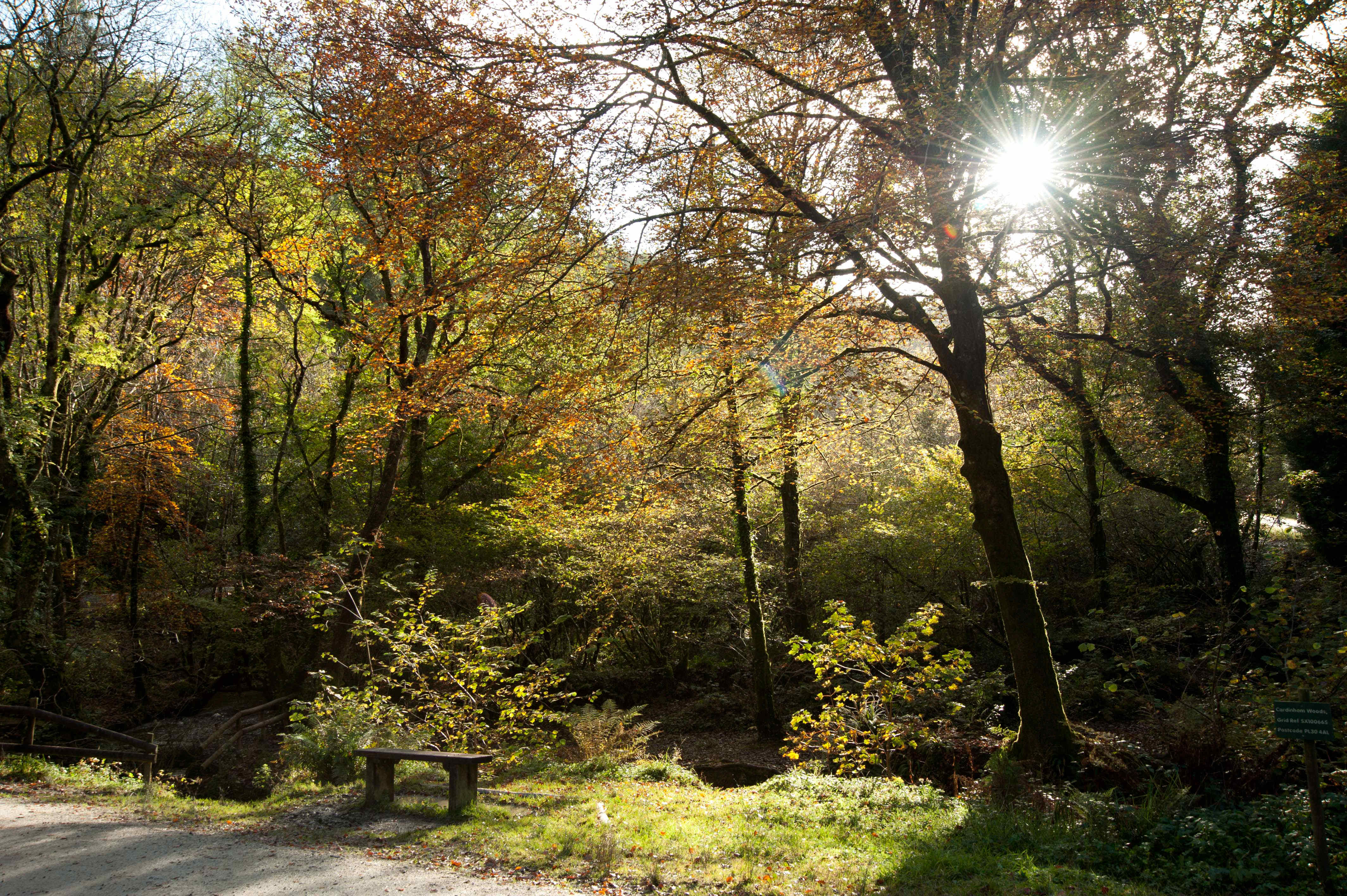 Cardinham is a great place to explore with your four-legged friend. It is the perfect location to recharge and relax. These wondrous woods are found in central Cornwall and have everything you could want from an outdoor woodland adventure.
The diverse woodland is full of secret glades, allowing you to take a step back
from the hustle and bustle of life into a haven of natural beauty. Stream-side paths, fresh air and stunning viewpoints make Cardinham Woods a wonderful spot for you and your canine companion.
In need of refreshments after your walk? Try the Woods Cafe, a centuries-old woodman's cottage with a welcoming open fire in the colder months, and outstanding cream teas
There's a variety of different walks graded by distance and difficulty, and you can download a map of the wood from Forestry Commission websites, Bodmin.
Roskilly's, Helston
Situated behind the beauty of Roskilly's farm in Helston lies some of Cornwall's forgotten woodland adventures. After enjoying a famous ice-cream in their parlour, explore the plethora of picturesque paths throughout the Old Withy Woods, and through the valley meadows which have been left to grow wild.
There is at least a mile of easy walking around these wild meadows, and it is quite possible to while away an hour or two exploring the twenty acres these grounds have to offer.
In the Croust House, you will also find maps for local walks you can do from the farm to see some of Cornwall's picturesque villages and spectacular coastline. The beautiful farm and surrounding scenery is an area of outstanding Natural beauty, and is also marked as a site of special scientific interest due to rare plants and wildlife!
So as our gorgeous green trees turn beautifully brown, get your paws on an amazing autumnal walk and see how beautiful our Cornish woodland wonderland is this autumnal season.