Falmouth for your Furry Friend
Set within the blissful beauty of our Cornish coast lies a town that is majestic beyond measure.
With its gorgeous harbour and beautiful beaches, the town of Falmouth is becoming a must-visit destination for holidaymakers around the UK.
As a host to a range of amazing activities to see and do, is comes as no surprise that we had to dedicate an entire blog to Falmouth's collection of dog-friendly days out, and why Falmouth should be on your bucket list of things to do with your dog!
Trebah Garden
These gorgeous gardens offer a beautiful, wooded 25 acre sub-tropical experience that descends to its own private beach on the delightful Helford River. There are a range of areas to explore, as you follow the natural spring that drifts by brightly coloured waterside plantings.
Explore under canopies bursting with exotic blooms, and follow vibrant tunnels of colour witnessing some of the most incredible rhododendrons, magnolias and camellias the UK has seen.
Dogs are welcome in the garden and on the beach all year round, but they have to be on a lead at all times. There are designated doggie tables in Trebah Kitchen, so dog lovers can sit together and enjoy a light refreshment after your amazing adventure.
Pendennis Castle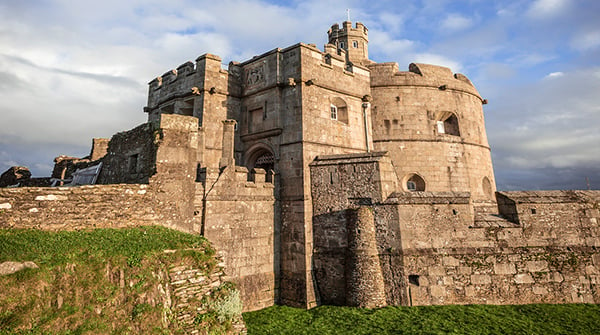 Explore Falmouth's historic, mighty fortress, and witness some of the most spectacular sea views imaginable. Once serving as one of Henry VIII's protective coastal monuments, Pendennis Castle is oozing in British history and awe-inspiring from the moment you step upon the grounds.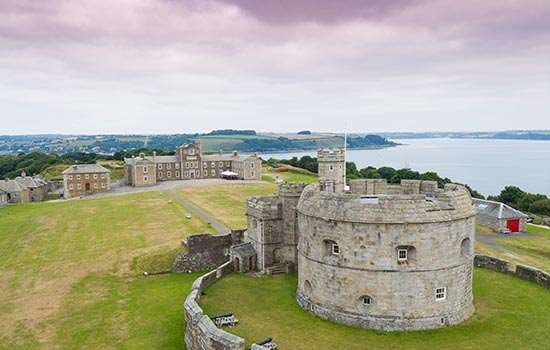 With an array of breath-taking views and historical treasures to explore in and around the castle, transport yourself and your canine to the past and live a day in the life of a Tudor warrior defending the King's honour.
Explore the castle grounds with your four-legged friend who are welcome all year round. Once you've finished venturing into the past, stop for a bite to eat in the outside seating of the castle café. The grassy dry moat that encircles the castle walls is another ideal place for dog walks, plus you don't need to pay to walk this route!
Stable Pizza
If great food takes your fancy, then a stop at Stable Pizza should definitely be on the cards when venturing around Falmouth. This perfect pizzeria has a fantastic reputation for pizzas, pies, salads and ciders, and dogs have always been made welcome.
The team proudly source prime local ingredients from the finest growers and producers in the region, to create their totally unique, West Country-inspired dishes. It goes without saying that everything is responsibly sourced and prepared, meaning your pizza tastes as fresh as it looks. We recommend the "Billy the Kid" Pizza, a majestic concoction of goat's cheese, spinach and caramelised onion.
Bring your pooch to Stable pizza and take a seat in the delightful downstairs area of this lovely restored building on Arwenack Street.
The Greenbank Hotel
Wishing for a gorgeous dog-friendly stay in Falmouth? There's no hotel we'd recommend more than the Greenbank Hotel.
Nestled on Falmouth harbour, The Greenbank Hotel blends the best of coastal Cornish living with the finest in contemporary comfort, so you can experience life on the water's edge with your four-legged friend in tow.
With beautiful decorated rooms, plush décor and stunning views, this hotel should definitely be on anyone's Cornish bucket list. As a pinnacle part of Falmouth's history, The Greenbank Hotel dates back to the 1600s. Its history oozes in its surroundings, and both you and your four-legged friend will adore your stay and want to return time and time again.
For dog friendly hotels in Cornwall, look no further than The Greenbank. They now have a selection of dog friendly rooms at the hotel, and welcome well behaved dogs to come and stay at £17.50 per night. They'll also include a blanket, food bowl and water bowl for the night, and even some gourmet treats for them to enjoy!
5 Degrees West
This spacious, modern bar serves food and drinks all day, and is a stones throw away from Falmouth Town Centre, and can be found opposite Events Square – home of the world famous National Maritime Museum Cornwall.
This very family-friendly pub serves a wide menu, suitable for all kinds of dining, from the smaller 'lighter bites' through to their 'sharing platers' and main meals.
Dogs are always welcome in 5 Degrees West, and they have water bowls dotted around both inside and out, making this an ideal spot to perch and grab a bite to eat with your four-legged friend!
As one of the must-see destinations in Cornwall, venture to fantastic Falmouth and experience some of Cornwall's best food, beaches and destinations that any holiday marker or Cornish resident will love to visit time and time again!