Magic of Macmillan
With millions of Britons baking cakes, biscuits, scones and enjoying a fresh cup of tea or coffee in aid of this incredible charity, we thought it only right to celebrate the magic of the Macmillan Coffee Morning and showcase how amazing their work is at working towards fighting cancer.
Here at the Natural Cornish Pet Shop, we salute the hard-work of the charity and their nurses across our British isles. Providing support and care to cancer patients and their families across Britain, there really is no charity quite like Macmillan. 
Their History
Founded in 1911 by a young man named Douglas Macmillan, this courageous charity has battled to provide love and support to those suffering with cancer. The charity was created when Douglas lost his father to cancer, and he was moved so much, he decided to found the Society for the Prevention and Relief of Cancer.
Douglas wanted advice and information to be provided to all people with cancer, homes for patients at low or no cost, and voluntary nurses to attend to patients in their own homes; thus the Macmillan we know today was born!
What they do
From diagnosis to remission, Macmillan is there for people dealing with cancer right from the start.
Macmillan nurses are experts in providing physical and emotional care for patients suffering with cancer, and there really is no length these fantastic healthcare specialists won't go to, to provide the love, tenderness and care for cancer patients and their families.
The Coffee Morning
Raising over £27 million for the charity in last year alone, the Macmillan Coffee Morning is a legacy in the charities history. Officially held on the 25th September every year, Macmillan encourages people from all walks of life to get together, bake or bring a selection of sweet treats alongside a cup of your favourite morning brew, and raise some funds to help support their amazing work for their fight against cancer.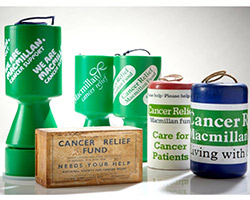 The first Macmillan Coffee Morning was held back in 1990, when a local committee held a coffee morning with the cost of each cup of coffee being donated to the charity. The event then went nationwide in 1991 with over 2,500 supporters taking part. Since then, the event has been branded "The World's Biggest Coffee Morning" with schools, offices, hospitals amongst some of the places to take part.
The event has become the largest and most long-standing fundraising event of its kind in the UK, and is growing in popularity every year. With millions of people taking part each year, even the locations have become more and more adventurous, with mornings held 100 feet underground in a mine here in Cornwall, and an event even held on the arctic ice!
No matter where people are, Macmillan is in the heart of everyone, especially those in the UK.
How Dogs can detect Cancer
As we know, a dog's sense of smell is far greater than a humans. With the ability to pick up new scents and aromas from miles and miles away, there is really no smell a dog can't detect. As amazing as Macmillan nurses are, our four legged friends also have the ability to support those suffering with cancer, as research suggests dogs can actually detect cancer in humans potentially before prognosis.
Like many other diseases, Cancer can cause odour changes in a person's body that the human nose cannot detect, as the cells in our bodies that become cancerous actually have the ability to radiate and change certain signatures in our body's odour. Depending on the type of cancer, dogs are able to detect changes in a person's:
These specially trained dogs are known as Medical Detection Dogs, and can alert medical professionals to changes before a diagnosis has even been given. When it comes to our furry friends, there is really nothing more remarkable about the never-ending skills they can adopt. With dog's being used more and more in the medical field, research is increasing about the brilliant benefits of our four-legged friend in the battle against cancer.
With Macmillan working tirelessly alongside our poochie pals, the charity is doing every bit it can to prevent this horrific disease from consuming more people each day.
So next time you see a coffee morning advertised at work, in the local café or even at a friend's house, either bake, brew and buy to do your bit to help fight cancer, and provide support for those dealing with it's effects. Together, we can stop cancer.