Our Best Dog-Friendly National Trust Locations
With a mass array of natural beauty surrounding our Cornish coastline and countryside, there are a plethora of idyllic locations to visit with your canine companion.
From gorgeous gardens to woodland walks, beautiful locations owned by the National Trust aren't hard to come by here in Cornwall. Filled with peaceful paths to take an adventure with your furry friend, you are spoilt for choice if you wish to explore the natural beauty of what our coastal county has to offer.
At the Natural Cornish Pet Shop, we adore venturing into the great outdoors with our four-legged friends, and we love hearing when others do too! So with endless realms of places to visit here in Cornwall, we have narrowed the list down and given you our Top 5 National Trust locations to explore with your canine companion.
Trelissick Woodland Walk, Truro
This wondrous woodland walk is an ideal spot to visit on those adventurous weekends. This fantastical forest trek is a gorgeous 3 mile circuit taking you through the lovely river bank, wondrous woodland and past the King Harry Ferry slipway before ending up at the tranquil creek tucked beneath the estuary.
Despite dogs not permitted to enter the main gardens, you and your canine companion can enjoy a lovely adventure around the parkland area whilst gazing upon the beauty of the fantastic floral grounds.
Even better – this woodland walk has a dog friendly café on site (The Crofters) who have dog biscuits, water bowls and outside seating available, so after a hard days trek – you can sit and relax and enjoy a good cuddle with your four-legged friend.
Trengwainton Gardens, Penzance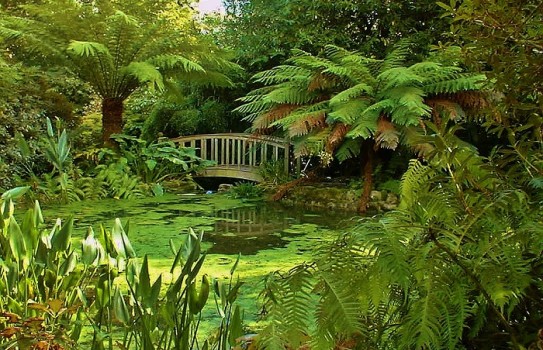 There is nothing that embodies the sumptuousness of summer more than a glorious garden. With beautiful botanicals and fresh flowers, Trengwainton promises a lustre of luscious loveliness in their National Trust-protected gardens. These wonderful gardens lie right in the heart of Penzance, making it easy to access a blissful adventure for you and your furry friend.
Like us, the National Trust loves everything to do with nature, and this includes our dogs. Welcome on leads all year round, this glorious garden walk is perfect for our golden oldies out there that fancy a springtime stroll in a quiet area. Soak in the summertime glory, and see what wonderful wildlife and fantastic flowers you can find on your wander around these gorgeous gardens.
With canine treats available at reception, a delightful day out at Trengwainton is guaranteed, so grab your leads and head down to this luscious locations that is beyond pawfect for you and your four legged friend!
Lanhydrock, Bodmin
Explore the 400 acre grounds of this vibrant Victorian country house with your canine companion in tow. With a range of woodland walks to choose from, amble across this beautiful landscape and explore what Lanhydrock has to offer.
Be aware, despite Lanhydrock's love for wildlife, dogs are not allowed in the main gardens but can adventure within the 400 acre grounds. You should also keep your dog on their leads in the parkland when the resident livestock is present.
For when the adventure is over, take a break at the dog-friendly Stable Tea Room and Café, and treat yourself to a Cornish cream tea while your four-legged friend enjoys a handful of their homemade biscuits that can be purchased in the tea shop.
Lizard Point, Helston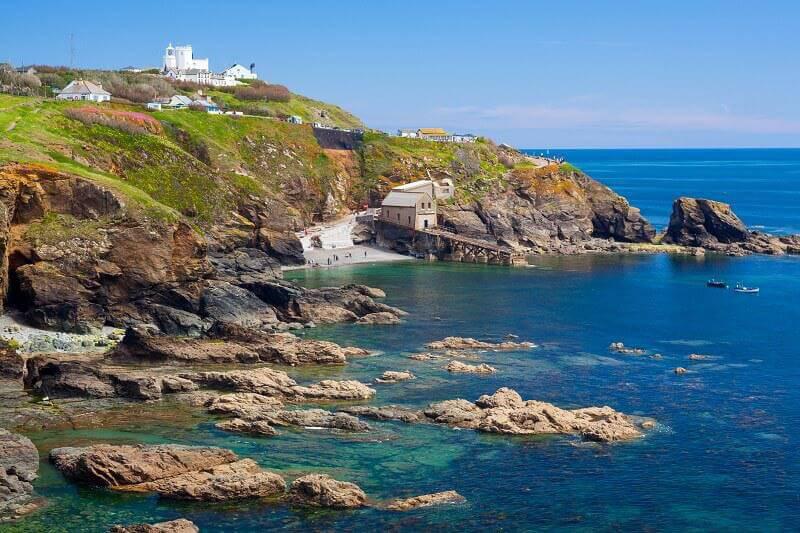 Take in the dramatic views of the Atlantic Ocean on this adventure around the most southerly point in Britain. Embark your adventure near the Lizard Lighthouse and gaze upon a plethora of natural beauty in front of your very eyes.
Keep your eyes out for a range of birds and rare plants that can be seen from Lizard Point.  The succulent plant growing here is the Hottentot Fig, an import from South Africa which has been steadily encroaching in areas, smothering some of the rare plants that grow on these cliffs. You may even be lucky enough to catch a glimpse of Atlantic seals that pop their heads up from the ocean around the area.
Dog-friendly all year round, this is definitely a doggy destination you need to visit!
St Michael's Mount, Marazion
As one of Cornwall's top tourism locations, it would be difficult to keep a visit to this classic castle off any list. Set in the heart of Marazion village, this picturesque location is a must-see for anyone knew to our Cornish county. Acting as the sister building to the famous castle based in Normandy, Mont St Michel, this idyllic spot is a beautiful place to visit with your four-legged friend.
With dogs permitted to enter the harbour and village, despite being unable to enter the actual castle and gardens, this is an ideal spot to gaze upon the surroundings of the building whilst taking in the awe-inspiring view of nearby Marazion and Penzance.
So with the summer sun slowly peaking its way from within the clouds, enjoy a step in the sunshine and explore the best of what National Trust, Cornwall has to offer.