Walk In the Woods
With the summer sun beating down upon our four-legged friends, and the great outdoors calls for adventure, choosing shaded areas to walk can really help our four legged friends beat the heat. As many dog walkers seek the salty air of our beautiful Cornish coast, we have lots of different suggestions for some more sheltered spots inland to enjoy instead.
Our Cornish woodlands can provide all the shade we need when it comes to walking our canine companions. With Cornwall hosting some of the most beautiful forested areas in the UK, a walk in the woods has never been easier or safer. Packed with dog-friendly trails and local beauty spots to keep an eye out for, here's our list of the most wondrous woodland walks that you can embark on this summer season.
Tehidy Woods, Camborne
As the largest woodland in West Cornwall, covering over 250 acres, Tehidy Woods is an idyllic location for you and your furry friend. The country park here features over 9 miles of paths and trails, a lake and café with picnic area which is a pawfect place for you and your dog to rest and grab a bite to eat.
With an array of woodland wonders to explore, a wander around this fantastic forest is an ideal getaway for you and your pet. Dogs are welcome at Tehidy all year round, however there are specific routes dog walkers must stick to to protect the local wildlife! These routes are clearly signposted, so all you need is your picnic hamper, leash and your dog to have a wonderful walk in this woodland wonderland!
Things to watch out for include: The dancing tree, a beautiful ancient tree with a twisted trunk which makes it seem as though it is twirling.
Trelissick, Truro
Run by the National Trust, and although dogs aren't permitted inside the gardens, they are very welcome in the much larger parkland around the area.
The grounds of Trelissick are home to a stunning three mile circuit, which takes you down the hill in front of the estate house, to a small beach on the edge of the Fal estuary, then along the river bank through beautiful dappled woodland and past the King Harry Ferry slipway before continuing further into the secret and tranquil creeks tucked away in the estuary. This is an ideal spot for any dog walker who wishes to soak up the scenery whilst chilling with their canine companion!
Cardinham Woods, Bodmin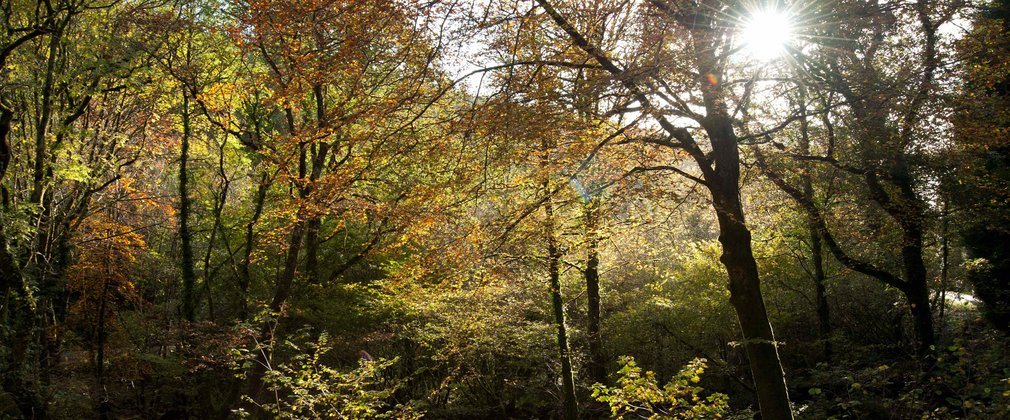 Cardinham is a great place to explore with your four-legged friend, where you can recharge and relax. These wondrous woods are found near Bodmin and have everything you could want from an outdoor woodland adventure. The diverse woodland is full of secret glades, allowing you to take a step back from the hustle and bustle of life into a haven of natural beauty. Stream-side paths, fresh air and stunning viewpoints make Cardinham Woods a wonderful spot for you and your canine companion.
In need of refreshments after your walk?  Try the Woods Cafe, a centuries-old woodsman's cottage with a welcoming open fire in the colder months, and outstanding cream teas (remember, jam first!). Yum!
Kennall Vale, Falmouth
Take a walk through history at Kennall Vale; this dog-friendly, picturesque woodland is filled with rich undergrowth, open glades and remnants of the old gunpowder works. Scattered through the reserve are the remains of the 19th century Kennall Vale Gunpowder Works, including several granite mills and buildings.
After walking the first part of the path at the top of the hill, you will discover the first of these remains; the aftermath of a series of explosions in 1838.
The river rushes round the valley through a series of water irrigation systems and artificial waterfalls, left by the gunpowder works, that would have once turned the water wheels that powered the mills, and over an abandoned weir.
Look up and you will see a canopy of beech trees, allowing the ground to be clear of the brambles and flowers that cover the floors of many other Cornish woodlands. Filled with wildlife to look out for, including the pipistrelle bat, this idyllic location is one of the most beautiful spots of our Cornish county!
Roskilly's, Helston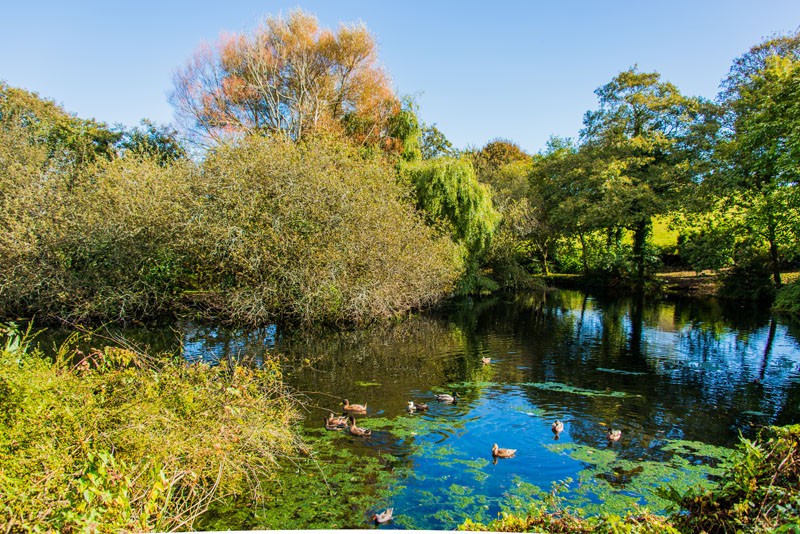 Situated behind the beauty of Roskilly's farm in Helston lies some of Cornwall's forgotten woodland adventures. After enjoying a famous Roskilly's ice-cream in their parlour, explore the plethora of picturesque paths throughout the Old Withy Woods and through the valley meadows which have been left to grow wild.
It is quite possible to while away an hour or two exploring the twenty acres. These fields are home to the farms cattle, who can be pretty curious, so make sure dogs are kept on leads at all times when visiting here!
In the Croust House, you will also find maps for walks you can do (from the farm in a loop) to see some of our spectacular coast line and Cornish villages, and on foot is really the best way to really see their spectacular farm land and scenery in an area that is of outstanding natural beauty and has sites of special scientific interest because of the rare plants and wildlife.
So with a range of wonderful walks to keep you and your four-legged friend occupied and cool in these summer months, explore the natural beauty our Cornish countryside has to offer and take a walk in the wild with your canine companion right by your side.